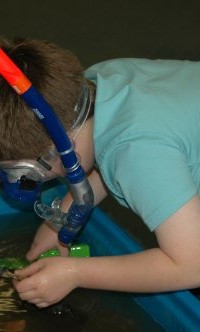 Time Travelling by Water joined Sutton College of Learning for Adults (SCOLA) last Saturday to host some fun free family activities in Sutton Library.
Intrepid volunteers snorkelled to discover real archaeological finds and handled some dry finds on our touch table. These included a 1940's telescope, a machine gun and mammoth tusk and teeth, all of which have been dredged up from around our coasts. The events were very much enjoyed and there was a great response form the public.
Though Sutton, in Surrey, is not within one of Time Travelling by Water's target counties, this event demonstrates the out of area interest in this valuable project. This is especially important in an area which has seen much development over the past few years, much of which will have used marine aggregate.