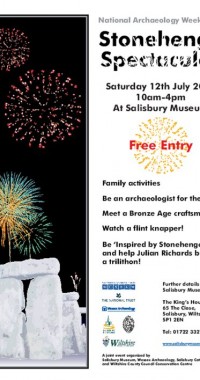 National Archaeology Week 2008 is nine days of events beginning on the 12th July. This annual event is organised nationally by the Council for British Archaeology and aims to give everyone the opportunity to learn about the heritage that is all around us by becoming involved in archaeology. This year Time Travelling by Water will be supporting events at Salisbury Museum on the 12th July where we will be celebrating and exploring our prehistoric past.
Visit the Time Travelling by Water stand to learn about the last Ice Age, between 70,000 and 10,000 years ago. During the last Ice Age the planet became very cold and water froze into huge sheets of ice. As the water froze, the seas retreated only to return as the climate warmed and the ice melted. Dry land where people, plants and animals once lived is now covered by water. It is in these currently underwater areas that we can expect to find some of the best evidence of how people lived during the last Ice Age.
Explore the evidence yourself and become a marine archaeologist by using diving equipment to explore submerged finds. See if you can sort the modern finds from those that are truly prehistoric. You might even find some real mammoth remains!
This is just one of the many exciting things you can do at Salisbury Museum on the 12th of July. You can also build 'Stonehenge' on the back lawn, reconstruct the face of a Bronze Age person and try your hand at metal detecting. There will be demonstrations of prehistoric flint knapping and bronze casting. In the museum's lecture theatre you can explore the process archaeologists use to find out about our past and try some archaeological digging and recording techniques yourself! You can also view the museum's displays including the newly opened Inspired by Stonehenge exhibition.
Entrance to the museum for National Archaeology Day is free and the museum is located opposite the cathedral cloisters, in Cathedral Close. We look forward to seeing you on what promises to be a spectacular day!
For more information on National Archaeology Week and other activities that will be happening across the country this July, visit the CBA's National Archaeology Week website.