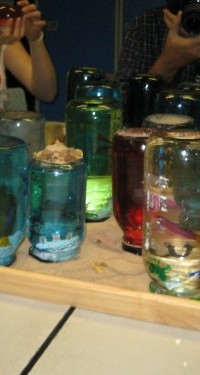 Time Travelling by Water joined forces with the Hampshire and Wight Trust for Maritime Archaeology at the weekend to explore underwater archaeology with Southampton Young Archaeologists' Club.              
Alison Hamer from HWTMA taught the Young Archaeologists about maritime archaeology and showed them some real artefacts that have come from below the waves. One brave volunteer dressed up in a dry suit complete with air cylinder and flippers to experience what it is really like to be an underwater archaeologist.
Every October Southampton YAC takes part in the Big Draw, run by The Campaign for Drawing. Following Alison's introduction we used all of the things we had just learnt to make some marine themed snow globes with TTBW Project Officer Gemma Ingason, as our entry into this year's Big Draw competition. The Young Archaeologist's created shipwrecks, sunken cities and submarines and surrounded them with divers, fish and even a few mermaids. A little water, food dye and glitter completed the project leaving us with beautiful lasting reminders of all that we had learnt.